When it comes to inventory forecasting, StockTrim is all about making your job easier.
For the past few months, we've been tinkering behind the scenes preparing the biggest upgrade to our platform to date. We've prepared a raft of improvements to StockTrim that will make managing your orders and forecasts even better than before.
This involved redesigning all of the screens in the app with a focus on creating a sharper and more modern look and feel.
If you're a subscriber, you can try out the upgraded version of StockTrim today by clicking here.
We're sure you'll find the app really intuitive, but since it looks different than it used to, we've compiled a helpful list of all the main changes below.
Handy navigation bar
The navigation bar has moved from the top of the page to the left, so now you can access your dashboard, order plan and data load screen at any time. You'll also find the link to suppliers admin under the quick access list.
We've relocated FAQ and settings to the navigation bar so they're much easier to locate. If you haven't been to our FAQ before, it's a rich resource which uses a dynamic search to easily locate the information for anything you need clarified.
We've improved the visibility of settings, which is now viewable in a full-size screen and grouped into relevant categories so that you can more easily customise StockTrim to meet your own specific needs.
Updated dashboard
The dashboard is the go-to screen to help you visualise your highest priority inventory. We've increased the number of products viewable so you can see more of what's really important. On this screen, you can view:
Top 10 fastest moving items to be sure you focus on your important stock first
Top 10 most urgent order requirements to be sure to manage your stock-out risk effectively
Top 10 most stagnant items to move these items on and reduce your excess capital
Refreshed order plan
The order plan is where you spend of your time in StockTrim, so we've strived to make this screen as intuitive as possible:
New Filter Layout - Filters are easier to find and manage, with a more intuitive placement
Order plan scrolling - The order plan table can be scrolled separately, so you can keep the column headers visible as you scroll through your forecasts & data. No more confusion when looking through large data sets.
Easier editing - All editing is now done in the demand analysis screen. We've removed the ability to do inline editing.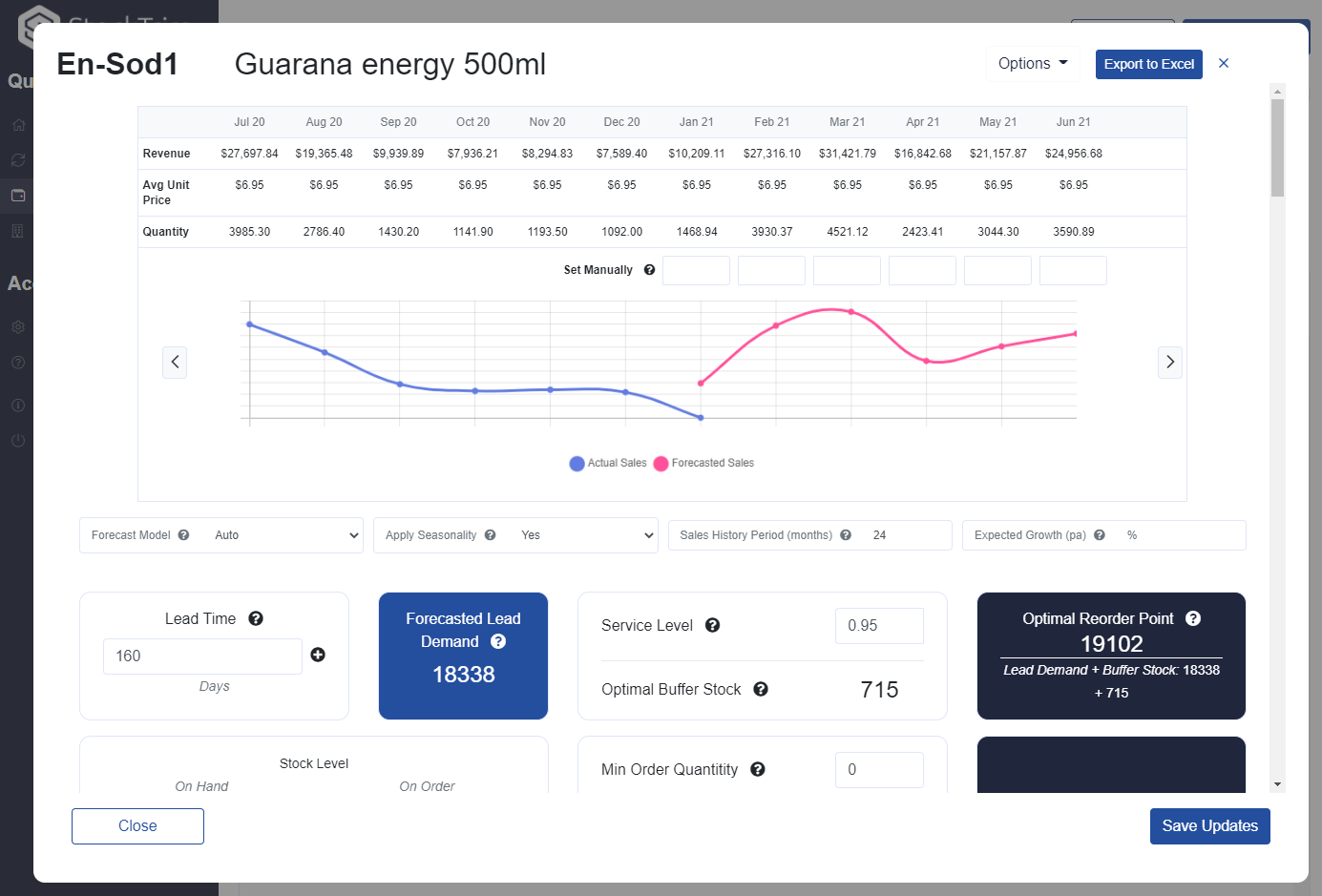 Improved demand analysis
The demand analysis is the engine room of StockTrim. It's the place where we crank through variables like lead time, sales history and seasonality to deliver accurate forecasts. We've increased the functionality in the demand analysis and made it easier to understand and navigate.
Longer forecasting range - you can now see and create graphical forecasts for up to 24 months into the future and sales history 24 months in the past.
Help tooltips everywhere - hover over the ? icons to see explanations and calculation formulas so you can be clear about your forecast and order suggestions.
More intuitive layout - get more visibility of the calculation flow. Adjust parameters to see how they affect your forecasts & order suggestions to make them as accurate as possible and customized to your business.
Service Level per SKU - previously it was a global setting for all products, but now you can increase your inventory efficiency by ensuring you have a higher service level & buffer stock for your important items so you can stay in stock, without ordering excess of your slower moving items.
We're excited to hear what you think about this upgrade. Give it a try and let us know your thoughts below in the comments.