New feature: Bill of Materials drill down
Manufacturers can now drill down to see complete visibility of an item's bill of materials. For full details check out our blog post here.
Coming Soon
Reorder Schedule Currently your order plan is an as-of-now suggestion, with replenishment due dates in the future. This upgrade will allow you to enter your reorder frequency and the system will then come up with a schedule for the foreseeable future, calculating your optimal order quantities at each replenishment date, depending on your future forecasts, so that you can plan further ahead and let your suppliers know about future order requirements ahead of time.
Monthly demand forecasts in csv export Currently you can export your monthly forecasts per item – we'll be including these forecasts in the main order plan export so that you can export your monthly forecasts for all your items at once.
Multiple user accounts – easily add new users to your account so all required team members can access StockTrim with their own logins
Pricing upgrades – get savings by making bulk annual or quarterly payments on your account
Support plans – ability to buy support plans through the app so that we can always be there to help give assistance with your demand forecasting & inventory planning
Inventory data ownership & editing features – easily edit your inventory data such as your product list, sales history, locations, suppliers, categories & BOMs within the StockTrim UX without the need to continually re-sync with your inventory management system or rely on CSV imports to update data.
17 April 2020
Completed Upgrades
Speed upgrades - This has been optimized to decrease the load times of large files to a matter of minutes, so that your forecasts can be always up to date.
Breakdown of sales history - The sales history for each product is able to be shown in tabular format, and editable, so you can get a clearer understanding of your trends, plus label items as outliers so they're excluded from the forecasts.
Incoming API - The ability to easily integrate with any system or micro-service via API. Easily task your development team or inventory consultants to develop your own plugins with StockTrim.
4 December 2019
Demand analysis features now live (no longer beta)
Breakdown of sales history is also now live.
Variant grouping & drill-down - Items with variant SKUs (e.g.: different sizes or colours) can now be grouped together or shown individually. Easily see the total forecasts for a product range, as well as the total suggested order quantity. Then, drill down to see the forecasts for each size, colour, or other variant, so that you can easily plan your orders in more detail.
Upgrades to forecast engine - Based on analysis of many users real data we've upgraded the forecast engine to be even more accurate. Seasonality will be automatically applied in a more practical way, taking into account general trends and ignoring one-off periods in your sales history. Items with sporadic demand (e.g.: large orders only 2 – 3 times per year) can now be forecasted.
31 August 2019
New demand analysis - New forecast engine - Monthly forecasts (Beta version)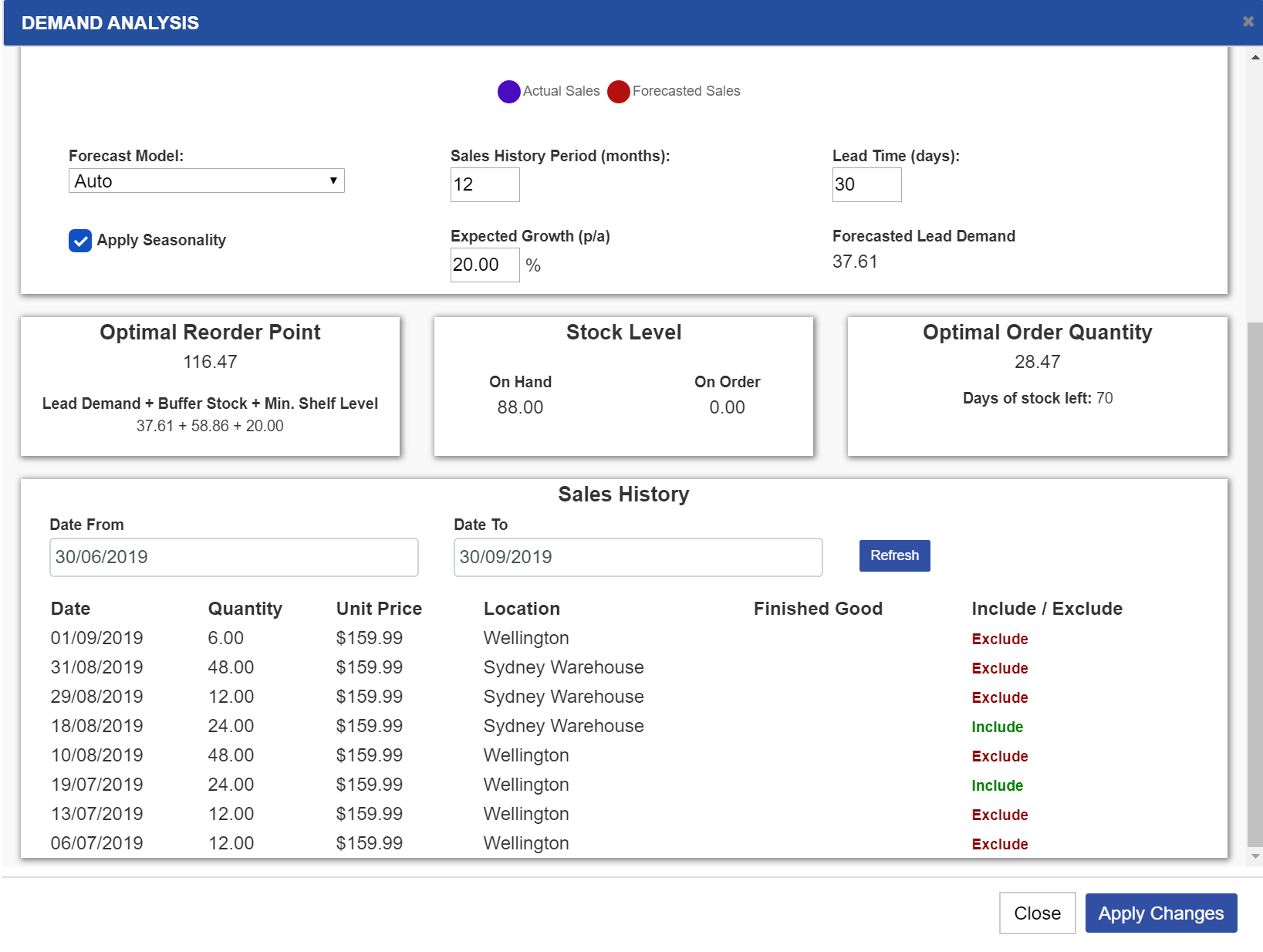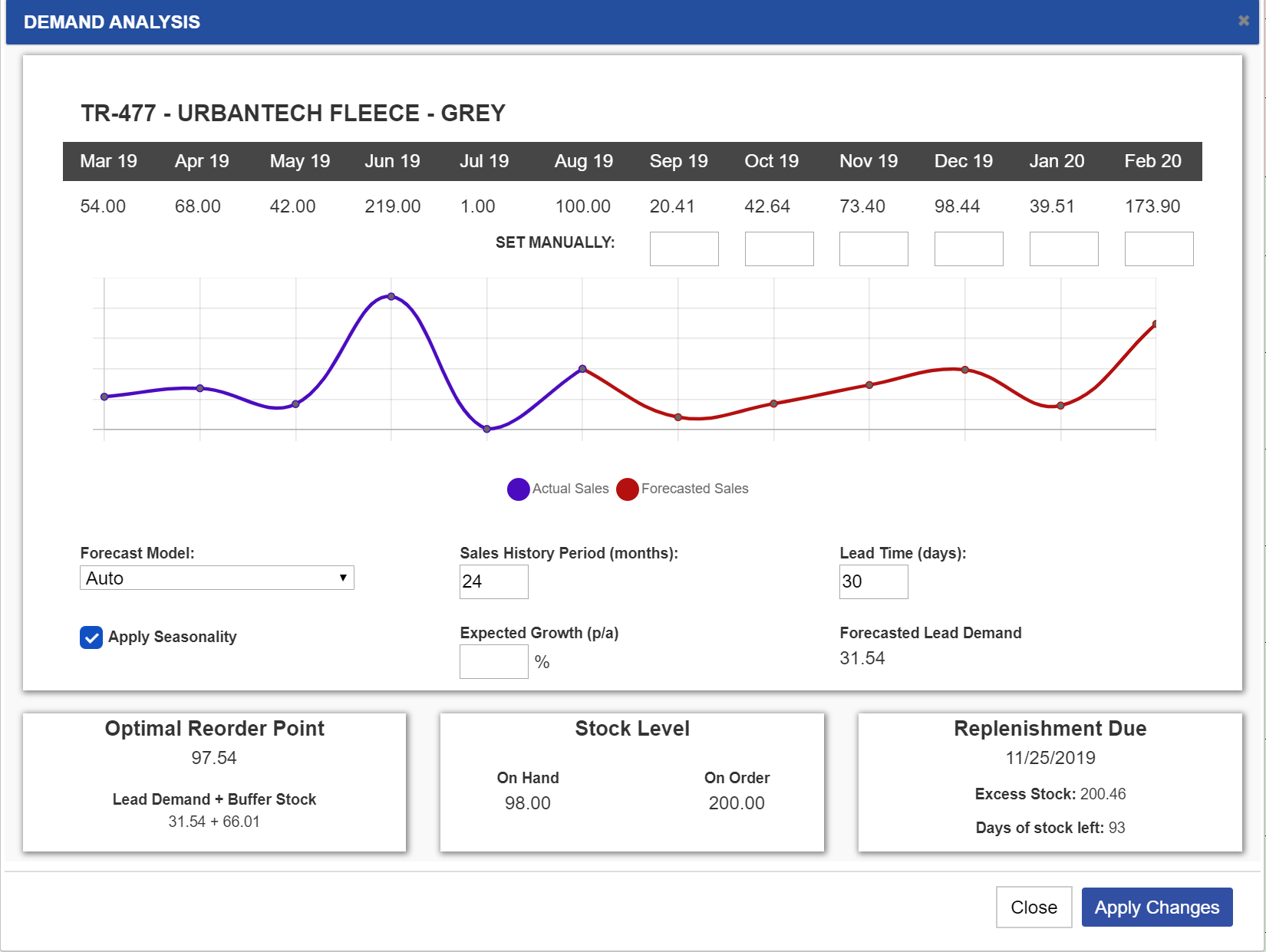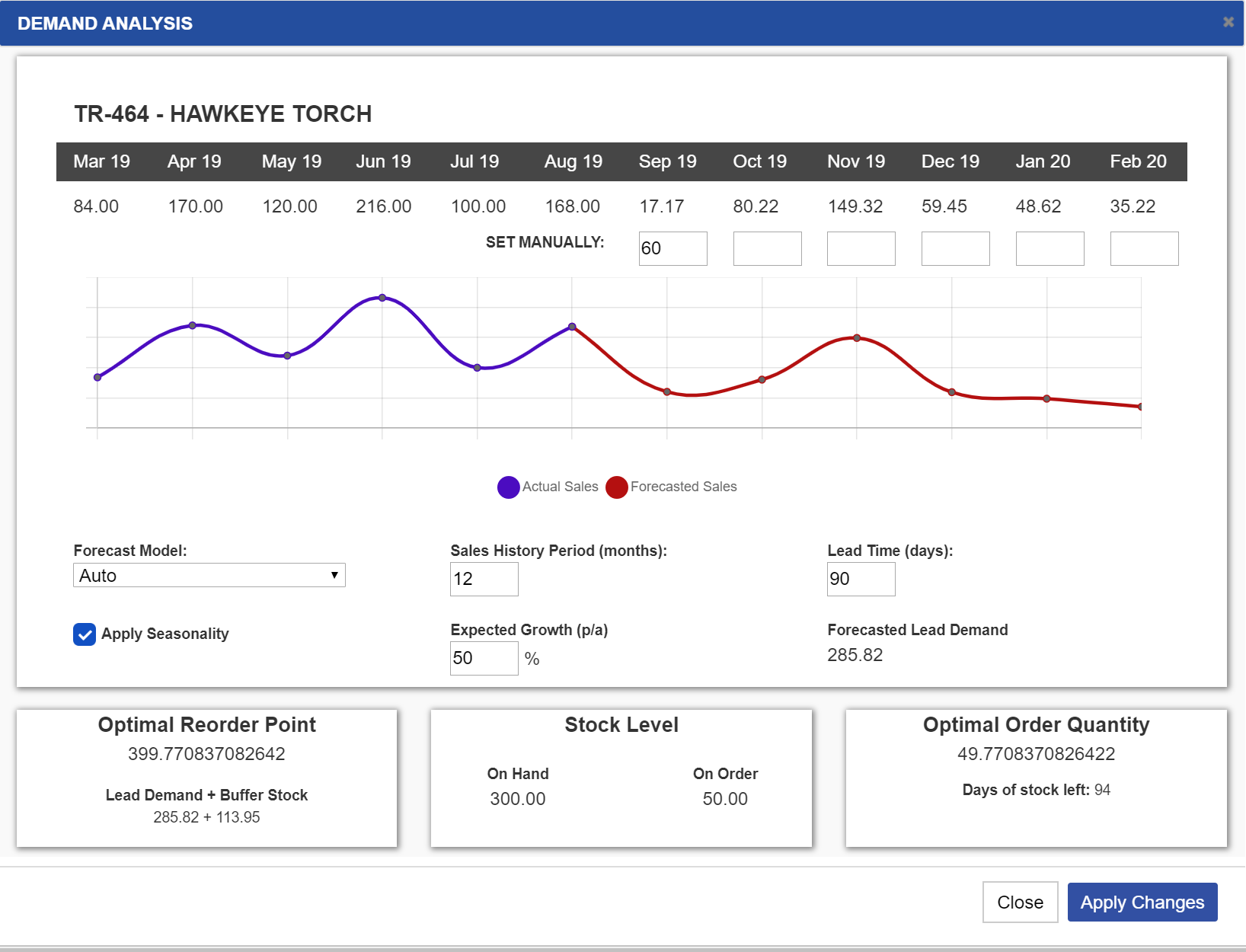 More system speed and stability
Dashboard and order plans load faster
System performance overnight NZ time, nightly automatic updates are running and is stable for all users
5 August 2019
Usability improvements to manual demand setting. It is now more intuitive to manually set demand for products that will have a forecast different from the sales history. You can now set different time periods for expected demand, and the system will calculate the optimal amount to order based on your lead time.
3 July 2019
TradeGecko API - StockTrim is now able to integrate with TradeGecko in one click. Simply press 'Load from TradeGecko', enter your credentials, then behind the scenes StockTrim will magically read your products, sales history, and other data, to come up with your demand forecasts & optimal order plans.
Multi-location manufacturing support - If manufacturing happens at multiple locations, you can now use StockTrim to calculate the optimal stock level of each component to send to each location so that the manufacturing always has enough on hand.
System stability - We've implemented better managing/detection of duplicate data from multiple uploads, faster uploading & importing. We've also introduced more configuration & automation around supplier-sku linking – ensure that your supplier specific order plans show the correct SKUs, based on either your purchase order history, or how they are configured in Unleashed, Cin7, TradeGecko, or your CSV import.
21 May 2019
Multi-location support for csv imports – you can now import location specific product and sales data so that you can forecast and create order plans for each of your warehouses, branches, or outlet stores via CSV
Cin7 speed enhancements – it's now three times faster to import & refresh data from Cin7
More intelligence around lead times, suppliers, and minimum order quantities – the system can now automatically set your default lead times, default suppliers, and minimum order quantities for each product based on your purchase order history. This is much easier than having to manually set this data on each item.
More comprehensive export - More data will be included in the csv export. More information about your sales history for each item, your min/max stock levels, different forecast periods, cost and value data.
Bulk update - The ability to bulk update lead times, forecast periods, suppliers, and product categories.
5 April 2019
Editable lead time for locations - You can now have different lead times and forecast periods for each location / warehouse to predict the stock you'll need separately at each location.
Expected future order time period - You now have the ability to extend the manual demand feature set, by applying specific time periods for overridden demand, with optimal order points along the way. For example, if you're doing an advertising campaign, and expect an increase of demand over the next 3 months, and your supplier lead time is only 2 weeks, the system will show you the optimal order quantities every 2 weeks, to meet your demand over the whole 3 months.
Performance enhancements - Calculating demand for large bills of materials will be much faster.
Configurable default lead time - Configure whether your lead time is automatically calculated from each product's purchase order history, or whether it defaults to your supplier's lead time or an overall default.
More fields to CSV import - You can now import or bulk update supplier product codes, min/max shelf levels, and minimum order quantities via the CSV import.
11 March 2019
Expected future orders - You now have the ability to override or enhance StockTrim's forecasts based on expected changes in future demand. For example, if you are running a promotion and expect to sell 20% more items, you can specify this so the forecasts will increase by the required amount above the historical trend. You can also completely override the forecasts to calculate your optimal order quantities – and for manufactured items this will even filter through to forecast the quantities needed for all components.
Manufacturing time - You can now add manufacturing time to built items. This will increase the forecast period to ensure you have enough stock to cover both your supplier lead time and your own manufacturing time.
CSV imports matching to API loads - You can now import additional sales history and BOM data from CSV files that will match products previously imported from an API. This is ideal if you've recently started using a product like Unleashed or Cin7, and your sales history is in another system. You'll now be able to easily import this into StockTrim so the forecasts will be able to use this data for trend modelling.
23 January 2019
New Dashboard – easily see your 5 fastest moving, urgent orders, and most recent items so you know what to focus on, plus a great visualisation of your last 12 months turnover.
New Stock Filters – Drill down, and sort by your fastest moving, most valuable, or most stagnant stock items to get a better understanding of your inventory efficiency.
Days left figure – You can now see the expected days of stock left on your shelf so you can plan ahead and place orders at the right time.
Days left figure – You can now see the expected days of stock left on your shelf so you can plan ahead and place orders at the right time.
Automatic daily updates – StockTrim can now update your data from your inventory management system's API automatically overnight, so everything is always up to date (paying customers only, demo accounts not supported)
Unstocked items – ability to set items as unstocked or obsolete. Keep track of these items without them being included in your order plans.
Minimum and Maximum stock level – ability to set item's minimum or maximum stock level. Enhance StockTrim's order suggestions if you want a minimum level on the shelf, or want to limit your capital liability.
Quickbooks integration (beta) – you can now automatically sync inventory data with your Quickbooks Online account so you can plan your orders from your products and sales history in Quickbooks.
Separate forecast periods – you can now have a distinction between the supplier lead time and a custom forecast period. You can run scenarios, or forecast further into the future to make sure you have enough stock on hand, even when your suppliers can deliver sooner.
API load options – increase the speed that StockTrim syncs with your inventory management system by only updating the relevant new data, but still have the ability to refresh all data when required.
Supplier lead times – you can now set the lead time per supplier. Instead of manually setting the lead time for each SKU or having a default applied to all items, you can now have different lead times for each supplier.