How Shine Drink makes the most of StockTrim Demand Forecasting Software & Cin7 Inventory Management.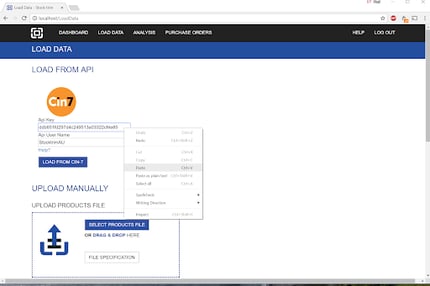 If you're a small to medium sized business involved in wholesale or retail, and managing stock inventory, you're probably a fan of Cin7, which combines point of sale with inventory solutions.
StockTrim is certainly a fan, too, which is why integration with Cin7 has been developed, with StockTrim augmenting and improving on Cin7's features to give you effective inventory forecasting, replenishment planning and stock control.
It's because StockTrim enables electronic data interchange between the two platforms, making things seamless for small businesses needing demand forecasting.
When it comes to charting and predicting your stock needs to prevent profit loss through over or under-stocking, StockTrim is the ideal addition to Cin7.
The reason StockTrim aligned with Cin7 was because, as Cin7 puts it, "By simply clicking a button, Cin7 can tell customers what sells and how to get more sales, giving them insight into their business and stopping them losing money.
StockTrim takes that one step further. Sign up for your free StockTrim demand forecasting software trial here and you're directed to a dashboard which:
Indicates whether you have understocked the top sales items

Provides data on who is buying your product from you, helping predict stock movement

Machine learning to better forecast sales
StockTrim's machine learning algorithm will automatically read your sales history and stock data to predict your optimal inventory levels and supplier order quantities.
The benefits of integrating your Cin7 inventory management software with StockTrim also include:
Avoiding stock-outs

Drill down into the demand analysis behind stock forecasting

Inventory risk management

Realistic management of buffer stock
Small business Shine Drink uses this demand forecasting software to control bill of materials planning and replenishment
Organic beverages manufacturer Shine Drink, based in Sydney, has a range of drinks selling directly to customers through its own website and Shopify.
Manufactured in their own small warehouse, each drinks line uses up to 30 different ingredients with different quantities for each.
Before discovering StockTrim, Shine found it difficult to know how much of their raw ingredients to order to meet the demand for the finished product.
Shine also had the challenge of charting the time it was taking from when an order was placed to when the ingredients would arrive, and then for the drinks to be manufactured ready to sell off the shelf.
Having over-stocked ingredients sitting on the shelf going past their expiry date which had to be thrown out was costing the business money. Meanwhile, more popular ingredients would go out of stock and hold up the manufacturing process and were unable to fulfil customer orders in time.
Small business inventory app StockTrim stepped in to help.
Uploading CSV data to forecast the sales they will make for each of their drinks

Breaking this data down into the orders that they need to place for each of the raw ingredients

Consequently helping the business eliminate almost all wastage by having 'just enough' stock to meet demand

Fewer delays in manufacturing by not going out of stock of popular ingredients as frequently

Using Cin7 plus StockTrim to manage inventory records

Cin7 and one-click integration to plan orders with StockTrim, meaning it now only takes 5 minutes to import the latest data to automatically make the forecasts and create the order plans
StockTrim also integrates with Xero, QuickBooks, Unleashed, TradeGecko, DEAR and Vend.
Create A Free 14 Day Trial Account