It happens to all of us from time to time.

That feeling that our health is not all it should be. That our bodies are running at a sub-optimal level, and we are not our normal bubbly and energetic selves.

When this happens, we go to our doctor to find out what's wrong. He or she then performs a battery of tests ranging from the mildly painful to the downright unpleasant and we spend the next couple of days in a state of mingled hope and fear.

Finally, the doctor gets back to us with the unwelcome news that our cholesterol is too high, our blood pressure too low, and the even more unwelcome news that we need to exercise more and eat/drink less.

He then prescribes a course of meds or a treatment plan/health regime to fix us up and get us back on track.

We take our medicine, (both literally and figuratively) make a few lifestyle changes and endeavour to live lives of abstemious virtue.

In short, we do what it takes to get back to our best.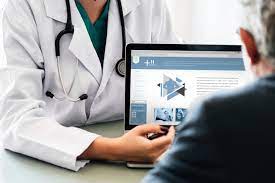 But for some reason, when it comes to our business, we don't apply the same logic. Instead, we tend to put our head in the sand and ignore the warnings signs that indicate a dip in performance or a decrease in efficiency and productivity.

Sadly, if left unchecked, these symptoms can escalate and result in loss of profits, loss of clients and loss of staff. In extreme cases, companies can even go out of business.

Fortunately, all of this can be easily avoided with a little bit of help and advice from StockTrim. The experts in fully automated demand planning and inventory optimization.

But before we tell you more about us and how we can help your business back to full health, let's take a look at some of the common symptoms that regularly afflict SME's
6 WARNING SIGNS THAT YOUR BUSINESS IS NOT IN GREAT SHAPE:
1. OBESITY aka OVERSTOCKING
The first red flag to look out for is overstocking. This is when you find your business with too much stock at the end of every month/quarter.
Not only is this a sure-fire way to give your boss high blood pressure, it also leads to further complications such as capital being needlessly tied up in stock, cashflow problems and issues with paying wages, bills etc.
2. MALNOURISHMENT aka UNDERSTOCKING
Understocking is the other end of the spectrum, where you find yourself with insufficient stock to meet demand. This can lead to a failure to meet contractual obligations, missed deadlines, and disappointed and angry clients going to other companies to fill their orders.

It is perhaps needless to add that this makes businesses feel very sick indeed.
3. PANIC & MUDDLED THINKING aka INACCURATE DATA:
A common and pernicious affliction in many SMEs. Symptoms include a failure to know, at any given moment, exactly what inventory you have. This leads to muddled thinking and panicky behaviour resulting in chronic over ordering or significant under ordering.
4. CONSTIPATION aka INEFFICIENT PROCESSES:
Low-tech, labor-intensive, manual inventory management procedures are time consuming and vulnerable to human error. But worst of all, they simply can't process the large amounts of information that come with sales volumes increase and inventory expands. This results in a logjam and everything grinds to a standstill.
5. POORLY TRAINED NURSES aka LACK OF EXPERTISE:
Skilled inventory managers are hard to find. As a result, inventory optimization workload is often dumped on the shoulders of someone without the knowledge or experience to give it the TLC it needs.
6. WRONG MEDICATION aka INADEQUATE SOFTWARE:
Many businesses suffer because they are not prescribed the right software to fix their complex logistics problems.
To further complicate matters, there are literally hundreds of inventory management platforms to choose from.
HOW STOCKTRIM CAN IMPROVE YOUR BUSINESS HEALTH:
For many years, businesses have used spreadsheets for forecasting and planning. A labor-intensive, unnecessarily complex system that's prone to human error.
But now, thanks to StockTrim, your company can enjoy a painless and stress-free approach to a healthy bottom line.
StockTrim are an NZ-based company specializing in smart inventory optimization and demand forecasting for SME's. And, for the last five years, they've been helping SMEs like yours to get back to full health.
How? By using their innovative inventory optimization software to accurately diagnose and predict companies' business needs.
Here's a few of the great features available on their unique inventory forecasting software.
INTUITIVE ORDER PLAN – THE PERFECT DIET:
See how much you need to order right now. Say goodbye to getting caught short or accidentally ordering too much.
StockTrim takes care of all those stressful, time-consuming calculations with forecasts, current stock levels and supplier lead times.
DASHBOARD – HEALTH AT A GLANCE:
Dashboard your most pressing or relevant stock info for making intelligent ordering decisions.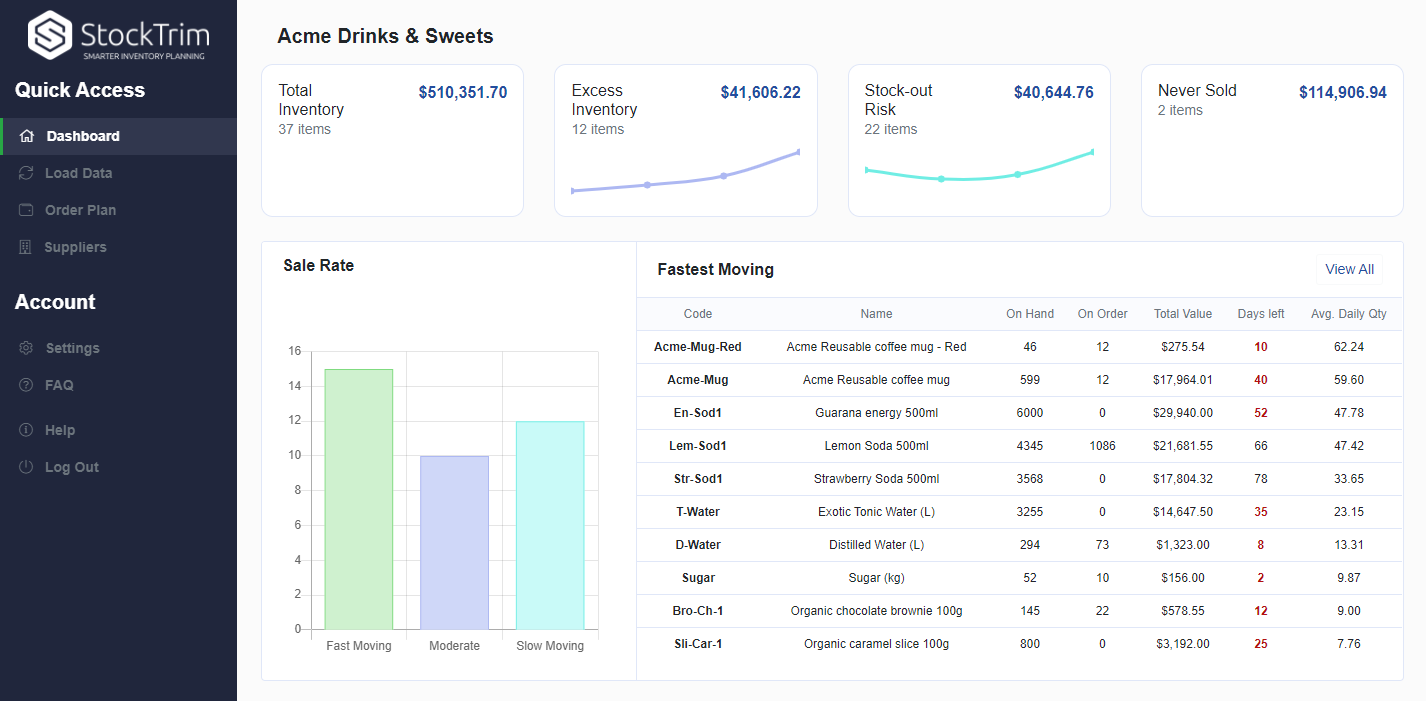 DETAILED DEMAND ANALYSIS – FIT FOR THE FUTURE:
Drill into your data to see underlying demand patterns and order quantity calculations. This allows you to be confident in predictions and ordering the right amount.
MANUFACTURING FEATURES – ONLY WHAT YOU NEED:
See the forecasted demand for your finished product and translate that into the required orders for each component. Easily handle multi-level Bills of Materials quickly and without errors.
FANTASTIC VALUE – KEEP YOUR FINANCES IN GOOD SHAPE:
StockTrim doesn't just save you time and lower your stress. It also helps contribute to a healthy bottom line. That's because it's priced at just $99 per month. This puts it well within the scope of all SME's, particularly when you consider how much you'll save on inventory optimization!
EASY ONBOARDING – LOW STRESS:
StockTrim is designed to be self-service, with most of our users becoming completely self-sufficient in just two weeks. And best of all, onboarding is currently included in the annual subscription.
STOCKTRIM - THE PERFECT FIT FOR A HEALTHY BUSINESS:
With StockTrim taking care of your inventory optimization, you can say goodbye to painful and costly inventory issues and say hello to a lean and fit new business with optimum health, productivity and profitability.
Now, isn't that just what the doctor ordered?
So, if you'd like to get your business back in shape, book an appointment with StockTrim today.
Or get started on your FREE 14 day trial today.