Australian makeup company The Quick Flick may be the only beauty brand to exclusively use its own customers to model the products, with no retouching or airbrushing.
StockTrim is one of the tools that's helping this visionary business stay on track to revolutionise the beauty industry.

The Quick Flick founder Iris Smit is all about challenging the traditional makeup market. From the start, when as a 22-year-old student she launched her original winged eyeliner stamp, her aim has been to empower customers by solving their beauty problems.



Within two years she turned her initial $10,000 investment into a $10 million business, boosted by success on the iconic television show Shark Tank, where she turned down a $300,000 investment offer to retain full ownership of her company.

The Quick Flick products are now stocked by retail stores throughout Australia and internationally, and Iris continues to create and launch new products while staying true to her original goal.
"Every product we've brought out has been designed to solve a pain point or problem, whether it's skincare or eye products," she says. "We set about solving problems and creating products that are quicker to use than conventional products."

As the business grew, the need for efficient and accurate stock forecasting became more urgent and the consequences of getting it wrong grew more serious.

"In the past we've either ordered too much product or not enough," Iris says.

Ordering too much product creates cashflow problems with stagnant stock representing money that could have been used elsewhere in the business, hindering growth.

"On the flip side, not ordering enough stock and being out of stock means lost sales and unhappy customers. And because we're in stores we need to ensure shelves are stocked to keep our retail partners happy.

"It was becoming more and more of a problem the more retailers we launched in and the larger we grew."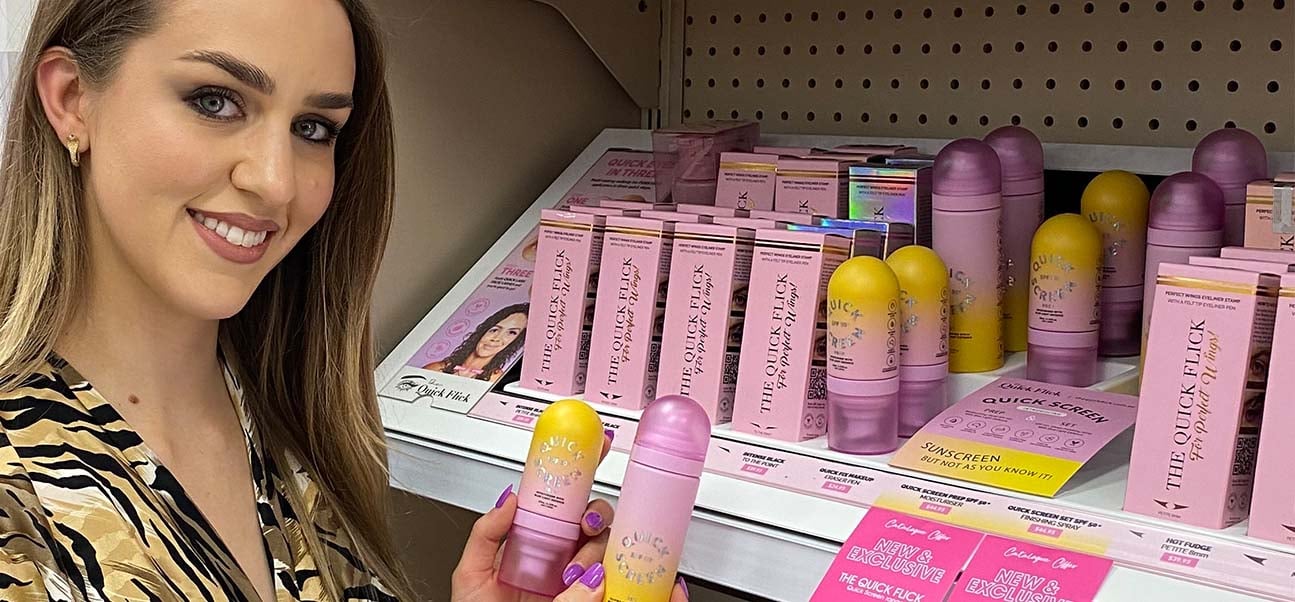 With platforms already in place for stock management and stock on hand oversight, Iris searched online for a stock forecasting app that would plug in to her Shopify store. She vetted several apps and StockTrim stood out for its affordability and specialisation.
The business started using StockTrim in November 2021 and Iris says the onboarding appeared to go without a hitch.
"I had someone else in team managing the onboarding system but from speaking to her it sounded like it was a smooth process.

"The main time-consuming items were making sure all the cost of goods were in there, loading manufacturers in place, lead times, and minimum stock levels, but once it's done, it's done. You put that work in at the start and it will save you time in long run."

It didn't take long to reap the benefits of using StockTrim. The time spent calculating stock orders reduced from hours to minutes, and StockTrim's accuracy has eliminated expensive mistakes.
"We used to use multiple spreadsheets to plan out the stock and to know how much to order and when to order it. It was a nightmare. It was time consuming, and we were still finding we were massively overstocked in some products and under in others," Iris says.
"One little error could mean $100,000 tied up in stock that can take 12 months to move through, which makes a massive impact. When you get to that level, one little mistake is not felt lightly."

Iris simply logs in every Monday to run the StockTrim report which will alert her if a product is running low, in which case she generates an order and sends it off. If there are no lines to re-order, it's literally a five-minute process.



"When I place an order with the supplier and it gets shipped, I can then send that incoming stock to our warehouse and say this is what stock's incoming and the ETA, it's just so much easier. My warehouse appreciates it because they have all the unit counts, how much the stock is worth, when it's arriving, simple!"

StockTrim also makes it quick and easy for Iris to identify the fastest and slowest-moving products and make longer-term decisions.

"It's a bit more confronting as well, you realise you have a lot of money sitting there. I can see if I need to put a plan in place to move this product and identify if there's a line that we shouldn't keep investing in."

StockTrim allows Iris to plan for the year ahead based on previous years' sales, and to then input forecasted growth, not only from The Quick Flick's own website, but also from other e-tailers and retail stores.

"We'll get a forecast from a retailer around how much stock they expect to order, say over the next six months, and we can upload that and make sure we have enough stock for our online and retail sales."

While Iris appreciates the time and money saved by using StockTrim, she's also grateful for the peace of mind it's given her.

"I feel I can now rely on the technology because it's eliminated that human error and allowed us to have the stock we need and not have so much cash tied up in stock that isn't moving as quickly.

"It's great, it's that stress I don't have at the moment."