Blick Industrial are leading suppliers of drilling tools, fluids and other products for the drilling industry. Their products enable a wide range of projects to go ahead in New Zealand and Australia - from the massive – think new tunnels and geotechnical drilling - to the minuscule, like connecting homes to high-speed fibre.
The nature of Blick's industry means forecasting can be really difficult. It's common for some projects to face lengthy delays, whilst others need to hit the ground running. To add more layers of complexity, they have the logistical juggling act of managing around 3,000 stock keeping units (or SKUs) and lengthy lead times of up to three months.
The reality was Blick's inventory regularly faced feast or famine. Tired of riding the unpredictable and costly wave of either understocking or overstocking, Blick needed to gain a better grasp of their inventory forecasting.
"There was no science behind what we were doing. It was based more on gut feel than facts or figures."
To move towards a more scientific approach to inventory forecasting, Blick gave StockTrim's free trial a go, followed by signing up to our monthly subscription. Within the first month, they were able to download a report of the products that weren't selling, or were slow sellers, in the previous three or four years.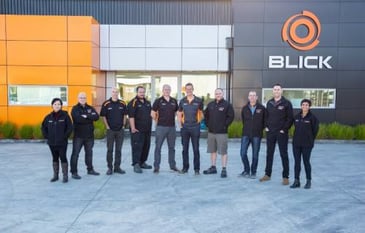 Some of the results were surprising. Operations manager and director Shaun Tubb says the insights from StockTrim "broke some misconceptions about our products and allowed us to focus on the products that we wanted to move on". These insights supported Blick's decision to create a special marketing campaign which focused on moving this excess stock to create new revenue.
"Moving on the excess stock had an immediate impact on our bottom line – creating an income without further expense."
Shaun describes StockTrim as part of an "eco-system" of cloud-based tools at Blick's fingertips. Rather than having one mega-tool that does lots of things at a mediocre level, they'd rather have a suite of systems that each have their own strengths but integrate well. Our system is designed to integrate seamlessly with others. In fact, Blick import their historical data from their inventory management system, Unleashed, into StockTrim.
"When we have encountered issues, StockTrim have been very accessible and patient. They were open and happy to make the changes. These are the people we want to work with."
Even though StockTrim is still in its early stages as far as software goes, Shaun can see the positive trajectory that our company is on. He likes that our attitude is open and flexible, and that we are prepared to listen and respond to our clients' feedback.
Shaun says that StockTrim has helped smooth out the waves of overstocking and understocking, and that the value of using us is going to increase with each passing year, as more and more data is available to analyse and form accurate predictions.
Shaun's favourite feature? "It tells me which products aren't moving. With 3,000 SKUs, it's really hard to keep a track of them, so it's been a real eye-opener. I like seeing the alerts and the prompts, too."
"We see it as a tool that creates conversation. No matter what system you have, there are still things that only a human knows."
Whilst we don't want to replace human intuition or experience, StockTrim can help smooth out the waves of understocking and overstocking - minimising surprises and raising awareness of what your inventory is up to and how you need to respond.
If your business needs help in these areas, you can give us a go with our free 14-day trial.