Featuring: Shine+
Shine+ emerged in 2015 when founders, Steve Chapman and Dr Sam Prince, were on a trip to New York and brainstormed a solution to the lack of functional and healthy drinks available in Australia. Sugar-heavy energy drinks were saturating the drinks market, and there were hardly any beverages around for the health-conscious consumer looking to naturally enhance their mental performance. Enter Shine+ with natural nootropics.
So, what are natural nootropics? Chief Operating Officer, Andrew, who has practically been with Shine from day one and has a medical background, explains that, as probiotics are good for the gut, nootropics are good for the mind. Natural nootropics - like ginseng, green tea, turmeric and caffeine - help students and executives alike stay alert, on top of their to-do-lists and smashing their goals, without the inevitable sugar crash that comes from your typical energy drink.
Shine+ are now available in most Australian petrol stations, major supermarkets and are available to purchase online through their beautiful e-commerce site.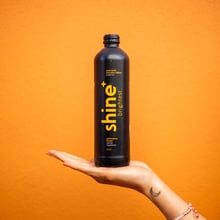 Shine+ grew quickly. As they were attracting more customers and their products were sold in more retailers, they faced a variety of challenges, particularly around their inventory planning:
Forecasting is extremely important - we were scaling up quickly. [You] don't want to have a lot of money wrapped up in working capital. At the same time, you can't go out of stock. It's the perfect conundrum having the right amount of stock at the right time.
Andrew's background and passions do not lie in inventory planning, operations or supply chains. Concepts like service levels and exponential smoothing were all new territory. It didn't take long for Andrew to become frustrated with the amount of time and money he was throwing into spreadsheets and trying to manually keep on top of inventory planning.
He could relate to the words of Shopify CEO, Tobi Lutke. That is:
"I'm always trying to think of ways to make something more efficient. If I have to do something once, that's fine. If I have to do it twice, I'm kind of annoyed. And if I have to do it three times, I'm going to try to automate it." From Tobi Lutke's interview with New York Times.
Andrew knew the importance of automating repetitive tasks and having the right systems and processes to keep things efficient. His time and expertise were better spent on:
Creating great products, finding our customers, giving our customers a great experience. It's how you set up systems and processes so you can deliver a consistent experience.
StockTrim's founder, Paul, first talked with Andrew in July 2017. Soon after, Shine+ jumped on StockTrim's free 14-day trial, and, in that short space of time, Andrew recognised the software could deliver real value. StockTrim integrated well with their existing Inventory Management System in and, as Andrew explains, that's an essential feature. The alternative of exporting to spreadsheets is messy and unhelpful.
Not only had Shine+ found an inventory planning system that was easy to use, but StockTrim were also really receptive to customising the software to better fit what they were after.
I had a really good experience with Paul. He's great to workshop things with. He's reliable and cares about delivering high quality.
Automated demand planning through StockTrim helps Shine+ plan and manage optimal stock levels at their different warehouses, which is important, especially if you sell and distribute your products through several channels like e-commerce and traditional brick and mortar stores.
Two years later, Shine+ continue to see the benefits of StockTrim. They don't stress about inventory planning because they have a system that they can trust, and they are more efficient and profitable as their repetitive, complex inventory processes are now automated.
Andrew can also see major strategic advantages to using StockTrim for their inventory forecasting. With the money saved on optimising their stock levels, they've been able to pass savings onto their customers and redirect more funds into marketing. Plus, there's less wastage which is vital for this environmentally and socially conscious company. Time that was spent fretting over forecasting is now spent on trying to gain those key customer accounts, too.
Are you like Shine+ and ready to take your enterprise into new directions, scale-up, score that dream account, automate inventory planning, reduce your waste, increase your profitability and minimise stock level shocks? Give StockTrim a go now with our free 14-day trial.