The impact of Covid-19 on the manufacturing sector will be larger than anything we have seen before. Small manufacturing firms are less likely to have deep enough pockets to get through the recession than large firms, and this pandemic could be the last straw for some that have been struggling.
However, it's not all bad news and there are ways to tip the scale.
Covid-19 will probably accelerate structural changes already happening in manufacturing – a threat to some, an opportunity for others. Those that have streamlined their supply chain and use technology to eliminate wastage are at an advantage.
Covid-19 may prompt a worldwide shift toward shorter supply chains and slower growth in international trade. That will be an ill-tiding for some exporting manufacturers but could also be positive for firms selling into the domestic market that were struggling with international competition. This aligns with the growth of F&B manufacturing driven by Paleo, Vegan, Organic and other health and wellness movements. When manufacturing products with such a discerning audience, sourcing the right ingredients and insufficient quantities and timing is critical.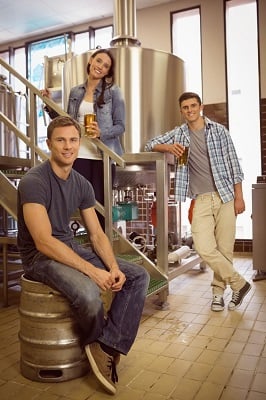 The trend toward shorter supply chains will drive demand in other areas. Smaller warehouses for 'just in time' delivery , contract manufacturing, and software that can help predict the exact amount of ingredients or components required to fulfill orders is required.
Covid-19 may create the emergence of a two-tier manufacturing sector, with globally competitive firms and then many smaller firms restricted to meeting bespoke local needs. SME manufacturers have high setup costs and most likely are still paying down debt. The necessity to conserve cashflow is a key focal point, so any tool that assists with retaining working capital in the business is a godsend. This, along with some of the other factors mentioned is why StockTrim has seen a spike in interest from small and medium sized manufacturers particularly those in Food and Beverages.
So what is StockTrim?
StockTrim is an inventory planning and forecasting software that is easily attached to most Inventory Management Systems. It is cloud-based so accessible to anybody with an internet connection.
The software reads inventory data quickly and highlights issues with over-stocking and under-stocking. The average customer saves $800,000 per annum in overstocking and $350,000 per annum on cost and lost profits due to under stocking. Clients conserve up to 40% of their working capital.
For any business this is groundbreaking, however StockTrim has some other features that really assist manufacturers. These include:
Bill of Materials forecasting
The ability to drill down and forecast all component parts in products, allowing a business to order the exact amount for a batch or shipment.
The AI reads changing lead times and builds these into forecasts (it can also be manually adjusted to do artificial disruption).
Ability to forecast new products
Adding a new line or version of a product? StockTrim allows users to predict what materials are required.
Remove mistakes in calculations and guesswork. StockTrim will actually produce order plans that can be downloaded or pushed back into the your Inventory Management System.
There are many other features, the point is that SME manufacturers now have tools such as StockTrim inventory planning to help conserve cashflow, save considerable time (up to 75%), and reduce errors. All of these outcomes serve to retain profit when cash is so critical.
The team at StockTrim have essentially 'democratised' inventory planning where prior to this only large businesses could afford to create planning software like this, it is now accessible for as little as the price of a cup of coffee per day.
If you are a business owner wanting to use smart, AI driven software to get a competitive advantage, utilise StockTrim's two week no commitment trial offer today.